How to find the best affordable hotels! 9 Insane Hotel Horror Stories that you definitively want to avoid!
By Kim Racpan
Horrifying Traveling experiences make Great Stories!

Imagine lying in bed after a five-hour trek in the mountains.
You are traveling and have just climbed steep inclines of muddy land and huge boulders of rocks.
After a long, exhausting day, you go back to your hostel dorm for a nap.
You eagerly take off your shoes as you lie comfortably on the soft mattress while scrolling through your Instagram Feed.
Then…
Percentage of people booking their accommodation online!
You sense warm, damp air filling the entire room, gushing through your nostrils.
A moist, rotting, acidic stench covers your face, suffocating you, taunting you.
You pause… You wonder… What is that smell?
And then it hits you… Stinky Feet!
You get up faster than lightning, concerned that the odor might stick to you.
Annoyed at being interrupted, you blame your roommates for the horrid stench.
But…
As you follow the smell…
You realize…..
It was you!!
Always check for reviews when booking accommodations!
Nobody likes bad surprises!
By reading reviews before booking there's an 82% chance that you won't have any problems with the hotel/hostel/apartment you're staying.
That's where sites like tripadvisor.com come at hand. Also, you can look for reviews directly on the booking sites!
For example Booking.com features reviews and scores for every accommodation they have!
We've all had our share of embarrassing, funny or horrible traveling experiences while in staying hostels, hotels or guesthouses.
And most of the time, they make for great stories.
So we've compiled some of the funniest and most shocking experiences for you to laugh or cringe at.
Be sure to read until the end as we'll give you our tips to ensure that these experiences don't happen to you!
9 Hostel and Hotel
Horror

stories gathered around the web

you

CAN

avoid!
The one with all the bacteria
" The first night of my three-week vacation in the UK, I stayed at a hostel right by St Paul's Cathedral in London – one of those bunk-bed style rooms.
Woke up to the sound of nasty, continuous coughing coming from one of the other people in the room.
As expected, I caught terrible flu from that room which really put a downer on nearly half of my vacation.
Of course, I still enjoyed exploring the UK, but I had to drive around with a giant box of tissues the entire time and was hopped up on flu medication. "
The one with all the bugs
"American arriving in India for the first time. I landed in Calcutta. Easily the dirtiest place I have ever encountered.
My co-traveler and I settled on a room in a hostel with a cement courtyard that was cheap and seemed fine, if not a bit run down.
The next day we were covered in HUNDREDS OF BITES FROM BEDBUGS.
It took us a full day to determine they were bedbugs and not just mosquito bites.
When we went back to the room, it was about 9 pm. We lifted up the mattresses to see what seemed like thousands of scattering bedbugs.
At the time, we found out that there was a citywide curfew, so we slept on the concrete with nothing underneath us. Everything in our packs, including clothes, were filled with the bugs."
The one with the fall
" I stayed at a hostel in Budapest. A guy slept on the bunk above me, snoring so loudly.
I couldn't sleep so I took my feet like a leg press and pushed up on the mattress lifting it up a good foot off the frame of the bed and let it drop.
This woke the guy up and as startled as he was, he scrambled and in the process fell out of the top bunk onto the wooden floor.
Half the room saw me do it, but no one said a thing as we all just acted as he woke us up by falling out of bed and making the loud noise when he hit the floor.
I then proceeded to convince him that he had a bad dream."
The ewwwwwwwwww one
" I was in a great little hostel in Bangkok this past Christmas, full of wonderful people who I'd become good friends with over the last few days.
Our room had six bunks, five of them filled with my new friends and me, and the sixth filled by some random dude.
This random guy ended up waking us all up at 7 am on Christmas morning by peeing off of his top bunk onto all of us below and all of our luggage.
At first, I thought it was raining in the room until I realized it was much, much worse."
The one with all the water

"Staying in a hostel in Amsterdam and had the drains clog up late at night so the shower, toilet, and sink were slowly filling and unable to drain out.
Woke up at 6 AM with the entire floor covered in water and my roommate getting extremely mad and cursing the hostel in both English and Portuguese.
The funny part was the hostel was extremely nice and well kept, just bad luck that the room I got had plumbing issues overnight."
The one where the door wouldn't budge
"I am an American staying in Bogota, Colombia. I tried going to the bathroom late at night, and it was locked, shrugged it off and just went to bed.
The next morning I was being filmed in a Coca-Cola Commercial (they came to hostels looking for gringo looking people), this was at like 6 am when I got up, and the bathroom was still locked.
This is extremely unusual for a hostel. I knocked, no answer. The door had a slit above it in which I could use a small mirror to see who was inside.
I saw the 40 y/o American guy who had just gotten there that previous night and was staying in bed next to me.
Figured he was just passed out drunk, so I said his name, and then threw some water through the slit on him and still no response. This was when I got worried and kicked the door in and went to shake him awake.
When I touched him, he was ice cold and clearly dead with a plastic bag next to him. The police came and closed off my room while I went to go film the commercial.
When I came back, I had realized the police had stolen my iPod out of my backpack."
The one where everything fell apart
" I was traveling in Koh Phangan, Thailand.
I was staying in a hostel, and this Scottish lady was brushing her teeth when the sink fell off the wall and landed on her foot.
It was the only hostel I had stayed in where everything was falling apart.
Full moon party was worth it though."
 The one with the "should be in an asylum" guy
" A couple months ago 2 friends and I were traveling Europe. We stayed in a 4 bed shared a room in a hostel in Prague, and on the 2nd night, we returned at 3 am to find our spare bed occupied by an elderly man in silk pajamas.
Fast forward to next morning, and we all awake, and said guest is hastily packing his stuff away (although he had now changed into a slightly dapper tweed suit).
We get chatting, and it turns out this gentleman is "doing all the traveling he never did in his youth," now that he retired from Psychiatry.
He tells us of his adventures around Europe, bids us farewell, and we all agree that he seems like a flipping terrific, admirable dude.
Three weeks later I'm back in the UK. Curious about the old man, I start looking him up on Google as I remember that he gave us his full name, and the town he lived in.
What I found utterly shocked me, and left both my friends sat either side of me, the same two who I'd traveled with, utterly speechless.
It turns out this guy, was wanted in court for numerous pedophilia charges in May 2015 but never showed up. "
The one with the 4 a.m. jump scare
"The absolute worst thing happened in Dominica when I woke up at 4 a.m. to see an intruder climbing out the window right next to my side of the bed.
He had taken a ladder and broken into our second-floor room while we were sleeping.
He must have been in the room for a little while because he had walked all the way around our bed and rooted through our clothes until he found my hubby's wallet.
Beyond the annoyance of losing money and credit cards, it was a terrifying, unsettling experience to have on the first night of a trip; we were jumpy for the rest of the vacation."
How we find the best hotels/hostels/apartments on our travels!
Though we feel for these travelers, we're quite relieved to say that we've had better experiences. Wanna know how we do it??
We can share our tips or better yet, We'll give you our resources so you too can have a good night's sleep wherever you go!
Make sure to bookmark these sites for your next travel:
Our first(obvious)choice:
What Is it
It is an online platform that offers a comprehensive list of accommodations and transport.
No down payment for reservations, straight to the point, well-organized and frequent huge discounts! (need we say more?)
How To Make It Work For You
Once you've written the necessary information such as Location and Dates, go to the Filters Section so you can narrow down your choices.
Here you can indicate your budget, zone preference, ratings, special conditions, and services, types of accommodation and distance to landmarks and exclusive discounts.
This enables the system to eliminate unwanted options and give you suggestions that match your needs.
If we think we can find better deals then we move onto: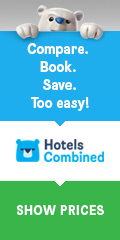 What Is It?
It is a Hotel Comparison Website featuring well-known companies like as Booking.com, Expedia, Agoda and Hilton, and so much more.
Why We Love It
An efficient way to compare prices!
They've cut down your research time by connecting multiple websites in one page.
They also share profit through their Affiliate Program.
This allows you to receive a commission on referrals to their site.
How To Make It Work For You
They personalize their service by categorizing accommodations based on themes.
You can choose whether you want a luxurious setting, a romantic getaway or a leisurely stay, and they'll filter it out for you.
This is especially helpful when organizing a trip for anniversary, honeymoon, family gathering and group excursions.
Indeed, a great way to set the mood for your trip.
And last but surely not least(we wish hotelscombined had some of its features):
What Is It
It is the largest accommodation search engine that showcases renowned to small-scale booking sites.
Why We Love It
Most websites claim that they show all types of accommodation but in their case, they literally do.
They know travelers so well that they've figured out every lodging one can imagine, and placed them all on one website to make travel planning seamless and enjoyable.
Imagine, they have options for Couchsurfing, camping or even sleeping in boats or castles!
You name it, they have it!
To amp up the ante, they even provide data analytics reports, inspirational blogs, and tips.
How To Make It Work For You
Enter essential details such as your location and travel dates.
They will then show you a list of suggestions which you can filter out according to your preference.
To narrow down choices, specify your preferred property type, booking options, ratings and service providers.
This helps the system clearly identify your needs and match the perfect accommodation.
Now you know the secrets to scoring valuable lodging deals!
We hope you'll have pleasant experiences for all your travels, but if you do encounter extraordinary lodging experiences, we'll be here to laugh or cry with you.